Using a template to plan Morning Meeting helps to connect elements of the meeting to one another and to the big idea of the current curriculum.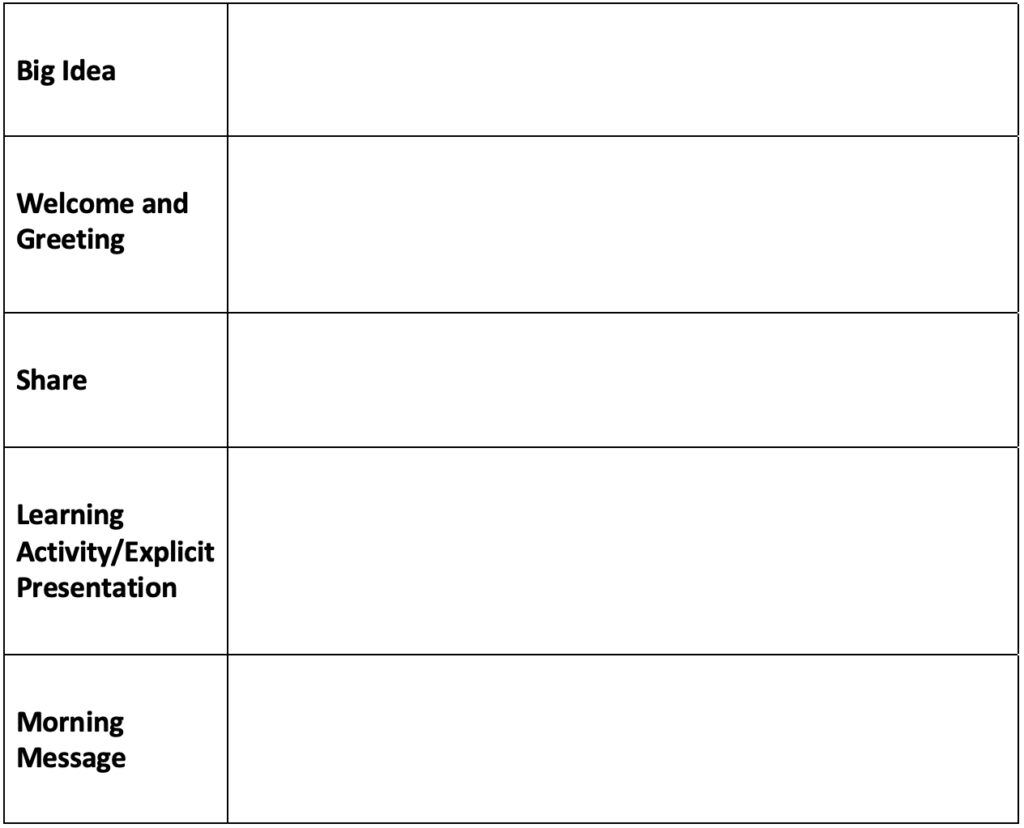 Examples from Different Times of the Year
September
Big Idea
We are a classroom community.
Welcome and Greeting
Listening Song (Second Step)
Come into the Circle Song
Share
(not yet, later in the month/year)
Learning Activity
Explicit Presentation of a classroom material
Morning Message
(not yet, later in the month/year)
November
Big Idea
People and families use traditions and rituals to celebrate together.
Greeting
Practice and pass greetings in home languages:
"Hola, ____." Bom dia, ____." "Bonjour, ____." "Ni hao, ____."
Share
Stand up-Sit down – Stand up if you . . (like pizza, have a sister, have black hair, etc.) . . then sit down.
Morning Message
Hello, Today is Monday. We will do a survey today.
Do your grandparents live near you?
Learning Activity
Group Survey T Chart – Have children place name cards to answer a survey question. "Do your grandparents live nearby or far away?"
February
Big Idea
People write messages to share feelings and ideas with one another.
Greeting
Practice a reciprocal greeting, while shaking hands.
Greeting – "Good Morning, ____." Response – "Good Morning, ____."
Share
Invite children to share personal stories about sending or receiving a letter. Invite peers to share connections and comments.
Morning Message
"Dear Children, Today is Tuesday. We will practice how to write a message. What might you say to a friend in a message?"
Learning Activity/Explicit Presentation
Model writing a message, using a dry erase board template (Dear ________, (space of a message) From, _______.) Have children draw a peers name card and speak a message. Take dictation and writing it into the template. Then read it. After a few rounds, present the word cards (Dear, Love, From, To, etc.) that will be available at the writing center for writing messages.
May
| | |
| --- | --- |
| Big Idea | Living Things Grow and Change |
| Greeting | Greet as many people as you can in 30 seconds by saying "Hi, ______," giving a high five, and waiting for them to say it back. |
| Share | Share personal stories of something you have learned (grown) to do at school this year. Take questions and comments. |
| Learning Activity | Sharing Work – Invite children who did observational drawings of the emerging sprouts and plants to show and talk about what they noticed. Take questions and comments, after each child shares. |
| Morning Message | "Good Morning Kiddos, Today is Thursday. We will talk about how plants grow. What have you noticed about the plants in the Science Center?" |
References:
The Morning Meeting Book, Responsive Classroom, 2016.
Morning Meeting Messages, Responsive Classroom, 2006
99 Activities and Greetings, Responsive Classroom, 2004
Second Step Curriculum